Holiday Schedule 2013

Closed Thanksgiving Day Thursday Nov. 28~  Closed New Year's Day Jan. 1
OPEN:
Christmas Eve, Tuesday Dec. 24:   4-10 PM
Christmas Day, Wednesday Dec. 25:   2-8   PM
New Year's Eve, Tuesday Dec. 31:   4-11PM
HOLIDAY MENU        Christmas Eve, Christmas Day,  New Year's Eve
Appetizers
Maryland Crab Cakes w/ Remoulade  8ˉ            Calamari Ceviche w/ Wild Mushrooms  8ˉ
Orange Sesame Shrimp & Chocolate Chile Sauce  9ˉ    Olives w/ Gorgonzola  8ˉ
                                   Appetizer Trio    $17
Entrees include Soup or Salad Course and House Made Bread
Broiled Lobster Tail (2)                            51ˉ
Broiled Lobster Tail & 6 oz. Petite Filet Mignon                45ˉ
Duck Confit on Peruvian Purple Potato Cake                29ˉ
Grilled Alaska Steelhead Salmon  Creamy Heirloom Tomato Sauce    25ˉ
Striped Sea Bass   Black Garlic Bacon Sauce                28ˉ
Cabernet Braised NM Lamb Shank                    24ˉ
Cocoa-Coffee-Garlic Encrusted grass Fed Organic Filet Mignon
                    7 0z.  36ˉ        12 Oz.    52ˉ
Grilled Rib Eye  House Made Bar B Q Sauce & Frizzled Onions
     Tender Juicy cut served with the eye of fat that it is named for
                    10 oz. 29ˉ        16 oz.    35ˉ
El Rito Organic Lamb T Bones Grilled & Garlic Encrusted
  Pomegranate Balsamic Reduction                32ˉ
Veal Marsala    Oyster Mushroom Marsala Sauce            25ˉ
Veal Picatta      White Wine Lemon Caper Cream Sauce            24ˉ
White Bean Potage  Sautéed Garlic, Mozzarella, Basil, Heirloom Tomato     25ˉ
Desserts  9ˉ      Trio  20ˉ     
Gregory's Apple Pie ala Mode
Warm Chocolate Fudge Cake and Black Raspberry Ice Cream
Key Lime Tarte  (gluten free)
Ginger Crème Brûlée
'Coffee and Doughnuts'    Chocolate filled Beignets & Espresso Ice Cream
Sunday Dinner   3 Courses   $19
Choice from 2 Soups, House Made Bread, List of Entrees, Choice from 4 Desserts
We also offer a $25.00 bottle of wine on Sunday.
A favorite of our local guests; we have been offering our Sunday Dinner Special for years!
Sept 26, 27, 28
Just a quick note:
This week for the Wine and Chile Fiesta, we are pairing a lot of great foods and wines, But are not doing a traditional Prix Fixe Wine Dinner.
Featuring Michael Mondavi's Wine Portfolio, we have new wines to try and delicious menu items to try them with.
Frog Legs,
Colorado 'Klocker' Pear Tarte,
Orange Scented Chocolate Soufflé,
King Salmon and Heirloom Tomato Tart,
Andy's Shrimp Louis & Buttermilk Onion Ring topped Burger,
Seafood Chowder
Roasted Autumn Vegetable Tartlet.
These are just a start.   And offered with them, sparklings, whites, reds, and dessert wines.  This sounds like a great way to sample lovely new wines and foods.
October 3,4, 5
Beef Wellington
Andy  prepares his Wellington with Mushroom Duxelles and Pastry. Another traditional form is pâté and pastry.  Let's prepare them both and you judge the favorite.
Beef Wellington calls for a great red wine.  The Mondavi Portfolio offers several that we will have on hand to complement the rich flavors of locally raised beef and mushrooms
New addition to our menu:
Black Tipped Shark cooked with herbed tomato olive oil & lemon, served over garlic polenta.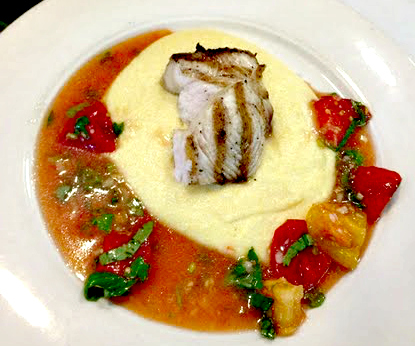 Have an adventure with us!   
A BIG WEEK AT DINNER FOR TWO
September 26, 27, 28       Wednesday, Thursday, Friday, Saturday
We are trying SOMETHING BIG for the last week of September. 
Instead of a traditional heavy wine dinner; we are going to pair favorite wines and favorite foods.  We will include items from our Wine List and Menu that we have always loved; as well as new wines and foods that just sound delicious together.
Please Note: All meals can be served WITHOUT wine, Prices will vary.
A few of the treats we are planning for the week:
Roasted Butternut Squash, Ginger, Curry Bisque

  

&

 

Cascal Garcia Vino Verde (½ glass)

    

Caesar Salad for 2 

&

 

Sparkling Codorniu Cava

  

                       

   

      

   

Roasted Autumn Vegetable Tartlet: Parmesan Reggiano

Crusted

& 

Montgravet

 

(½ glass)

 

Sautéed Frog Legs

(App. Size)

 

Hangtime Pinot Noir

 

(½

 

glass)

     

  

    

  

   

 

  

King Salmon & Heirloom Tomato Tart

(App Size)

 

 

&

 

Chime Pinot Noir

(½ glass)

¼ lb. Burger

&

House Made

Pretzel Bun

topped

w/ Shrimp Louis

& Buttermilk Onion Rings

 

&

Oberon Cabernet Sauvignon

 

(½ glass)

El Rito Lamb T-Bone w/ Dried Fruit Compote

 

&

 

Pedroncelli Zinfandel

 

(½ glass)

Chocolate Soufflé for 2

&

 

Bonny Doon Raspberry Framboise

   

          

Colorado' Klocker' Pear Tarte 

&

  

Sparkling Gruet Rosé

 

(½ glass)

      



A great way to try several wine and menu items, this list is just a start.Perhaps you will discover a new favorite yourself!
It's Back!
3 Course Sunday Dinner.  
Soup, Choice of Entrée, and Choice of Dessert w/ our House Made Bread

 

 
Just for Sunday a $25.00 Bottle of Wine
Vernon de Aguero plays guitar 6-8 PM. 
Sunday Evening Dinner is the perfect way to start the week!
Santa Fe Restaurant Week
February 24 thru March 3, 2013
$30   3 Course Meal
Also featuring great valued 'Wine by the Glass'
Appetizers     Choose 1
Maryland Style Crab Cakes   or   Orange Sesame Shrimp     or    Calamari Ceveche
First Course with House Made Bread      Choose 1
Butter Lettuce w/ Creamy Gorgonzola Dressing, Sun Dried Tomato, Almonds     or    Classic French Onion Soup     or    Truffle Oyster Mushroom Soup
Entree     Choose 1
Roasted Sea Bass w/ Parmesan Risotto & Creamy Saffron Sauce     or    Braised Roswell, NM Lamb Shank     or     Veal Picatta & Lemon Caper Cream Sauce
October 14th, 2010 • Posted by Andy Barnes • Permalink
makes 5 gallons
6 Onions sweated until sweet
1-2 pounds bacon added to onions
2 tablespoons Garlic Minced
1/2 Case roasted Sweet Corn
4-5 Cups Sherry
6 pounds mild Green Chile roasted, peeled, chopped
3 1/2 gallons chicken stock
2 pound Roux
1 gallon Milk
July 26th, 2010 • Posted by Andy Barnes • Permalink
Combine all for New Mexico Chopped Lamb
 2 pounds chopped New Mexico Lamb
 3 Minced garlic Cloves
 1 Minced Yellow Onion
 1 bunch minced green onions
 2 eggs
 1 C. Milk
1/2 C. Worchestershire Sauce
 2 tblsp. Curry Powder
1 Pureed Heirloom Tomato
 1 tsp. sugar
1/2 to 1 C. chopped Pecans or Pinons
 1 1/2 C. Panko
Salt and Pepper to taste
Fresh Apricot Sauce:
 Puree 1 pound NM Apricots
 1/2 C. Whole Grain Mustard
1/2 C. Honey or Agave Syrup
 Mix 3 ingredients and adjust to taste
 Purchase phyllo pastry.  Butter muffin tins and lay in 3-4 layers of pastry.  Butter every other layer and top layer. Bake in oven for about 10 minutes, until lightly browned & crispy. Spoon apricot sauce n bottom of pastry, add browned lamb ball on top of sauce. Enjoy!
June 25th, 2010 • Posted by Andy Barnes • Permalink
This recipe yields about 1 gallon
Ingredients:
1 ½ yellow onion, rough chop
½ cup extra virgin olive oil
1 tbsp garlic, chopped
5 lbs fresh asparagus with the woody ends removed and cut into 1 inch pieces on the diagonal
12 cups good quality chicken stock
½ pound of bacon (I'm liking apple wood smoked bacon these days)
1 tbsp hot sauce
In a large (2 gallon) pot:
Caramelize the onion in olive oil
Add the garlic and sauté until fragrant
Add asparagus to onion and garlic and sauté until soft
Cover with chicken stock
Simmer for 1 ½ -2 ½ hours
While soup is cooking sauté ½ pound of bacon until crisp, drain
Add crisp bacon and hot sauce to soup
Salt & Pepper to taste
Serve with a nice crusty bread!