Dinner for Two's New Year's Eve Take out menu!
New Year's Eve 4 course $45 Prefix
The Four Course will include Salad, Shrimp Risotto, Choice of Entree, Choice of Dessert, and Gregory's Fresh made Bread

please call 505-820-2075 or e mail order to 1sexychef@gmail.com
We will call you back to confirm your order
please place order advance to make sure we will have your order prepared for you. we will take your order the day of, but we would prefer to plan ahead.
Pick up times will be
New Years Eve-    4- 7:30
Course 1
Gregory's Caramelized Onion Bread and Butter.
Mixed greens salad with croutons tomatoes and Carrots
Course 2
Roasted Shrimp Risotto
Course 3   (Choose 1)
House Smoked 10oz Prime Rib Au Jus, Horseradish Sauteed Squash and potatoes Puree
Frenched and Crisped Stuffed Chicken Breast with Sun-dried tomatoes and Ementhaler cheese  Cabernet Demi Glace, Sauteed Squash and potatoes Puree.
Grilled Scottish Salmon with lump crab and Green Onion Brown Butter Sauce, Potatoes Puree and Sauteed Squash
Filet Mignon with Green Chile Queso and Lump Crab please Add $10 for this entree
Course 4  (Choose 1)
Key lime Pie
Carrot Cake with a light Cream cheese Frosting
Chocolate Cake with whipped Cream and Berries
Dinner for Two is locally owned in the heart of Santa Fe for the last seventeen years. We prepare the finest steaks in New Mexico with fantastic marbling and the best flavor around. We are located in downtown Santa Fe at the southwest corner of San Francisco and Guadalupe Street, convenient to the Plaza and downtown hotels. Parking is at meters on water street and Alameda  also Sandoval parking Garage.
 New Covid-19 Hours;  closed until indoor dinning returns

Update:   Dinner for Two is complying with New Mexico health mandate, and will be closed
We have instituted a 2 hour time allotment per table for dinning. We have done this, so we may be better able to predict timing for your reservation. So to minimize wait time.
Happy Hours 4 -6:30 pm
 Celebrating our 19th Anniversary! we have Added a Dog Friendly Patio

Click here for the happy hour menu
Click here for the Menu and Cocktail list.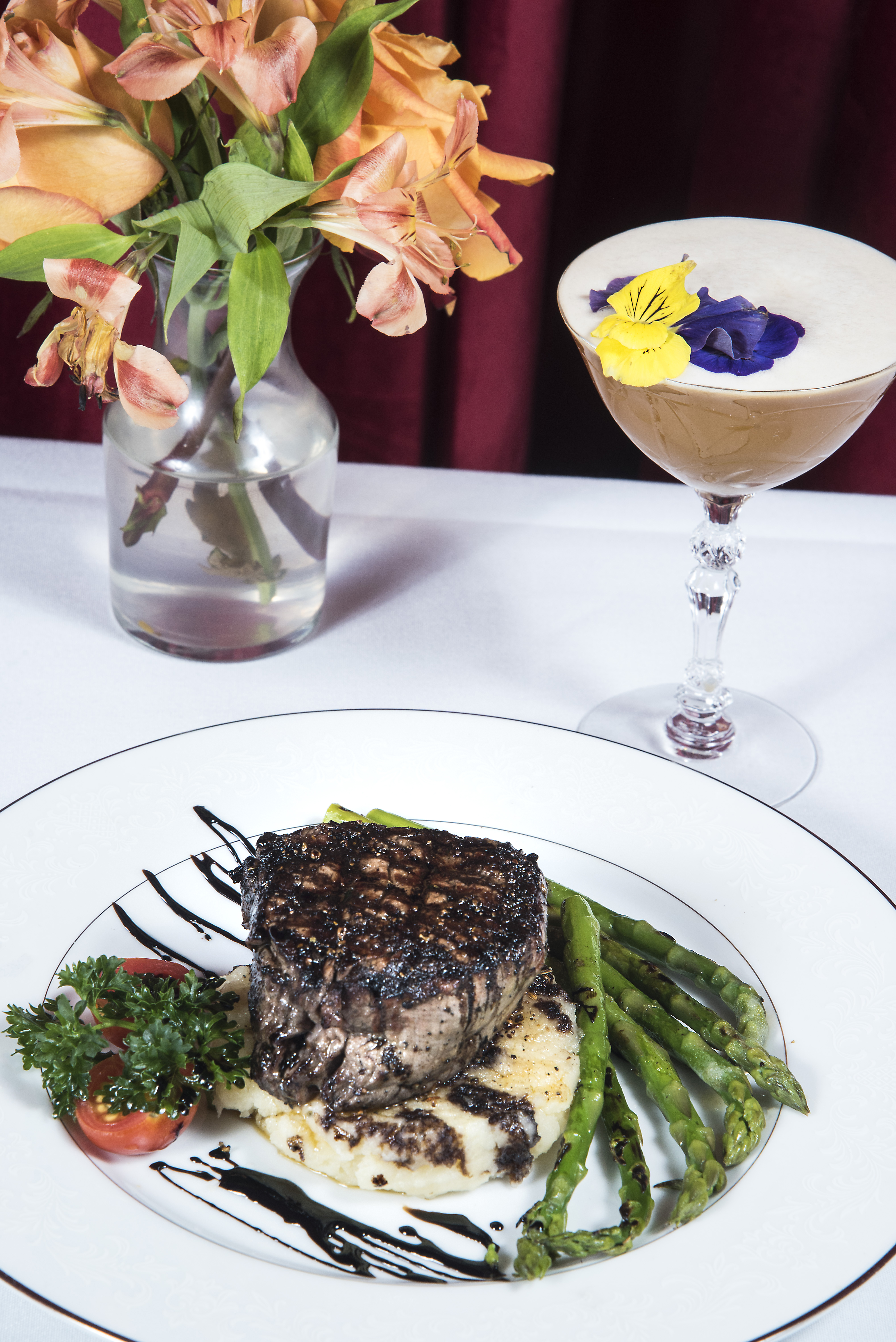 Congratulations to our Crew At Dinner For Two! 
Chef Andy Barnes Has Been Nominated For Best Chef in New Mexico By the New Mexico Restaurant Association 2020
We Were Just Named Best Steak House in New Mexico! by Only on our state

Also, we have just been nominated Best Happy Hour, Best Cocktail, Best Bartender, and Best Fine Dinning by The Reporter Santa Fe 2020
and Best soup in Santa Fe at the 2018 Souper Bowl!  .
 Try our Signature love bubble Cocktail  its a interactive Margarita made with Passion Fruit Juice Cherry Bitters and Patron Tequila Topped with a smoke Bubble that you pop  when your drink arrives.  Our bartenders are on the cutting edge of mixology, If you like a perfect Manhattan or something different like a Paper Plane, They can take care of you. We have six taps of local beer on draft that change weekly.
Come join us for happy hour from 4-6:30 
 Appetizers $6 house margaritas and$5 Draft and Wine by the glass at the bar, Everyday,  Saturday and Sunday included
We specialize in table side service.  Our Caesar Salad is the best!  House Made Croutons, fresh pastured eggs from our farm, and created for you.  Chateaubriand and Bananas Fosters prepared table side make the complete luxurious meal.
Checkout Our Weekly Specials; 
 Thursday Smoked Prime Rib 10 Oz $28.95
Sunday Special $24.95 For Three  Courses; Soup Entree and dessert
Best Value In Downtown Santa Fe!
Check out the Sunday menu Here

Our  Menu  includes Soups, Salads, and quite a list of Entrees.  We  also have an extensive Appetizer Menu that is perfect for experimenting with new treats and sharing tastes with a dining partner.  Appetizers, First Courses, Entrees, and Desserts are all part of this adventurous menu.
Dinner for Two has won Wine Spectator's Award of Excellence for the past 14 years for its Wine List that encompasses wines from around the world to complement a menu that will satisfy everyone in your party.