Dinner for Tw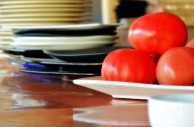 o is a family owned & operated restaurant with an intimate fine dining atmosphere.  We are located in downtown Santa Fe at the southwest corner of San Francisco and Guadalupe Street, convenient to the Plaza and downtown hotels.
Grass fed organic beef, the freshest fish, local products whenever possible, and seasonal foods are the standard. Everything from soup to beignets has been house made and special diets are easily accommodated. Most of our entrees and sauces are gluten free. Vegetarian and vegan options are always available. Our Bread is made fresh everyday and is a favorite with our local guests.
Our  Menu  includes Soups, Salads, Fresh Bread, and quite a list of Entrees.  We  also have an extensive Appetizer Menu that is perfect for experimenting with new treats and sharing tastes with a dining partner.  Appetizers, First Courses, Entrees, and Desserts are all part of this adventurous menu.
Dinner for Two has won Wine Spectator's Award of Excellence for the past 10 years for its Wine List that encompasses wines from around the world to complement a menu that will satisfy everyone in your party.